Do you want to spend Christmas in Maramures?
You can have a memorable experience if you go to the right place.
This vacation destination offers much more than just accommodation and a meal, even if it's tasty.
Old traditions and customs, a lot of places to visit, unique gastronomy, warm and hospitable people and many other pleasant surprises await you here.

What's The Winter Weather Like In Maramures?
We all know that winter holidays have no charm without snow, and global warming doesn't help at all in this regard. However, if you want to spend a snowy Christmas in Romania, your best chance is in Maramures.
Winters here are often freezing, with the average temperature ranging from -6°C to -10°C in the coldest month, January. The snow cover settles in the mountains as early as September and does not melt until April - May.
The idyllic villages are transformed into fairy-tale lands under the white snow cover, and horse-drawn sledges replace carts and other carriages.
A complete silence descends over the wild nature, and the landscapes are unrealistically beautiful.
Therefore, if you already want to do it but don't know when to visit Maramures, our advice is to come in winter. This season is also the richest in traditions and customs.
Traditions And Customs Of Christmas In Maramures
Christmas in Maramures comes with specific traditions and ancient superstitions. These customs are believed to bring happiness, prosperity and a bountiful harvest.
The winter holiday period begins on December 20 with the Ignat traditions. The pig is sacrificed and the children are marked with its blood, as it is believed that they will become stronger and healthier.
On Christmas Eve, the trees are whitewashed and tied with straw to ensure a bountiful harvest. Children must eat pumpkin to have rosy cheeks and be plump throughout the following year. The Christmas tree is decorated with willow branches and garlands of beans.
On December 24, the Maramures caroling begins. Children go from door to door with a goat or a star, wishing every homeowner well. They are rewarded with sweet bread, nuts and apples. The caroling starts at the priest's house and follows the path of the Magi to the gate of the last homeowner.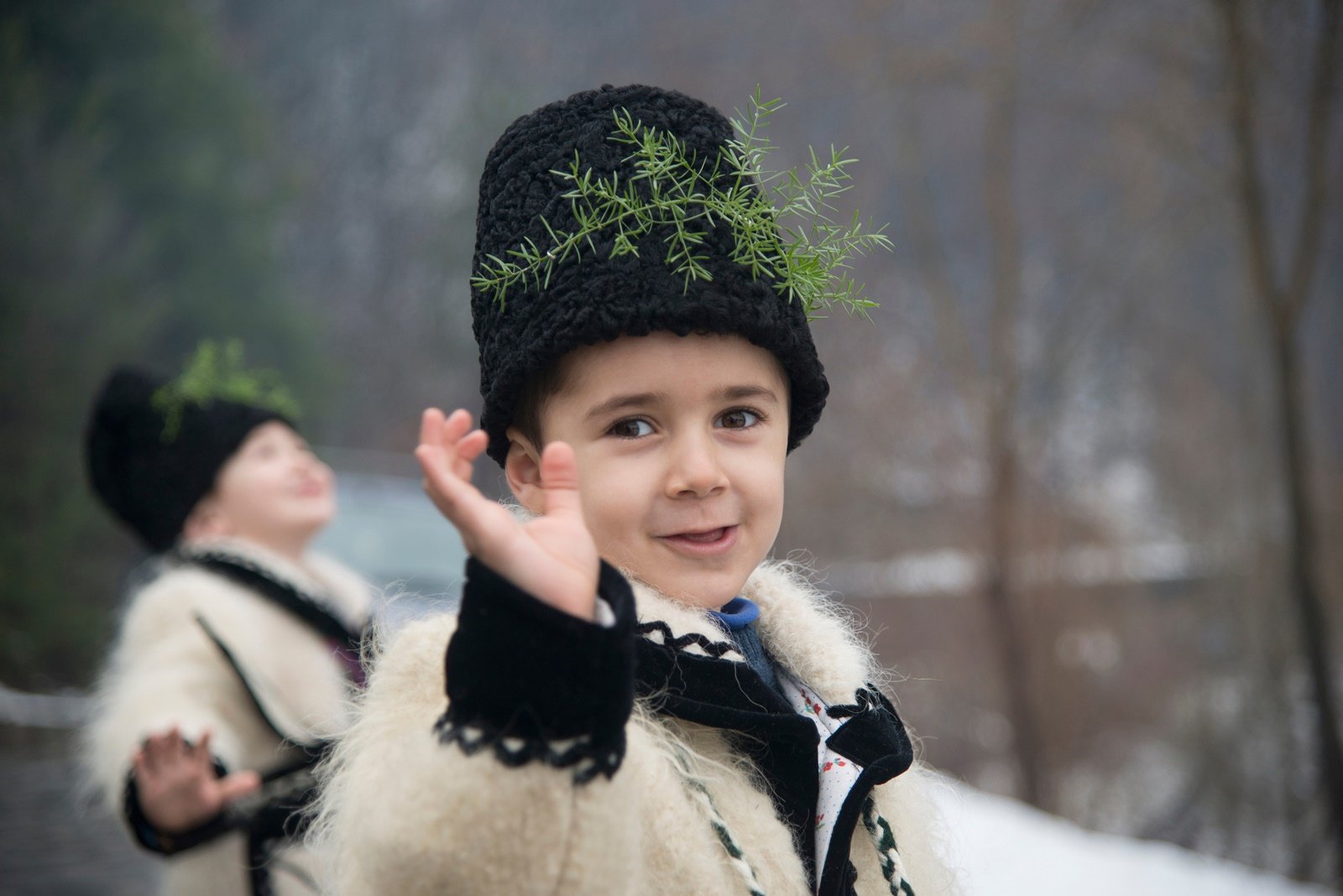 On Christmas Eve, all the houses of the Maramures residents must be illuminated and all gates open. This is a sign of welcoming the carolers. The groups consist of 7-15 young men, dressed in traditional Maramures clothing, wearing sheepskin masks on their faces. The elders believe that embracing the carolers protects you from evil spirits.
On Christmas Day, the animals in the household are well-fed, including a piece of leavened dough, which will protect them from illness throughout the year. The cows and stable doors are smeared in the shape of a cross with garlic, a superstition believed to ward off evil spirits.
Traditions And Customs Of New Year's Eve In Maramures
Before New Year's Eve, carolers exchange gates with neighbors they have quarreled with to encourage them to talk and reconcile.
The first day of the year, celebrated as St. Basil's Day, comes with a lot of superstitions and traditions. The locals in Maramures believe that the events of this day will influence the course of the year.
If some things are beyond their control, there are also customs they can perform for a better life. One of these is drinking red wine to be healthy and rosy-cheeked throughout the year.
On the morning of January 1st, Maramures residents wash their faces with fresh water, in which they put basil and a sprig of fir. The fir tree signifies youth, while basil seeds represent good luck.
Then the carolers go out with the Plough and the Sower.
The traditions and customs of winter in Maramures aim to ward off evil spirits, attract prosperity and good health for people and animals.
Christmas Accommodation In Maramures
If you want to spend the winter holidays in Maramures, choose your accommodation carefully. Otherwise, you may end up in a commercial place that practices mass tourism.
Travlocals offers you a list of traditional houses, manors and spectacular cabins where you will have unforgettable experiences. You can book all of them commission-free through the platform.