If you don't know what and where to eat in Maramures, Travlocals presents you some must-try culinary delights. Most of them can be cooked by our local hosts, who can also guide you towards the best local culinary spots.
Old recipes that are hundreds of years old, made from organic and delicious ingredients, await you in this fairy tale land. The Maramures cuisine blends Romanian, Saxon, and Hungarian influences perfectly.
According to local chefs, this region boasts the greatest culinary diversity. From zămuri, balmoș, stews, or paprikash, to gomboți (dumplings with plums), you can find it all in Maramures.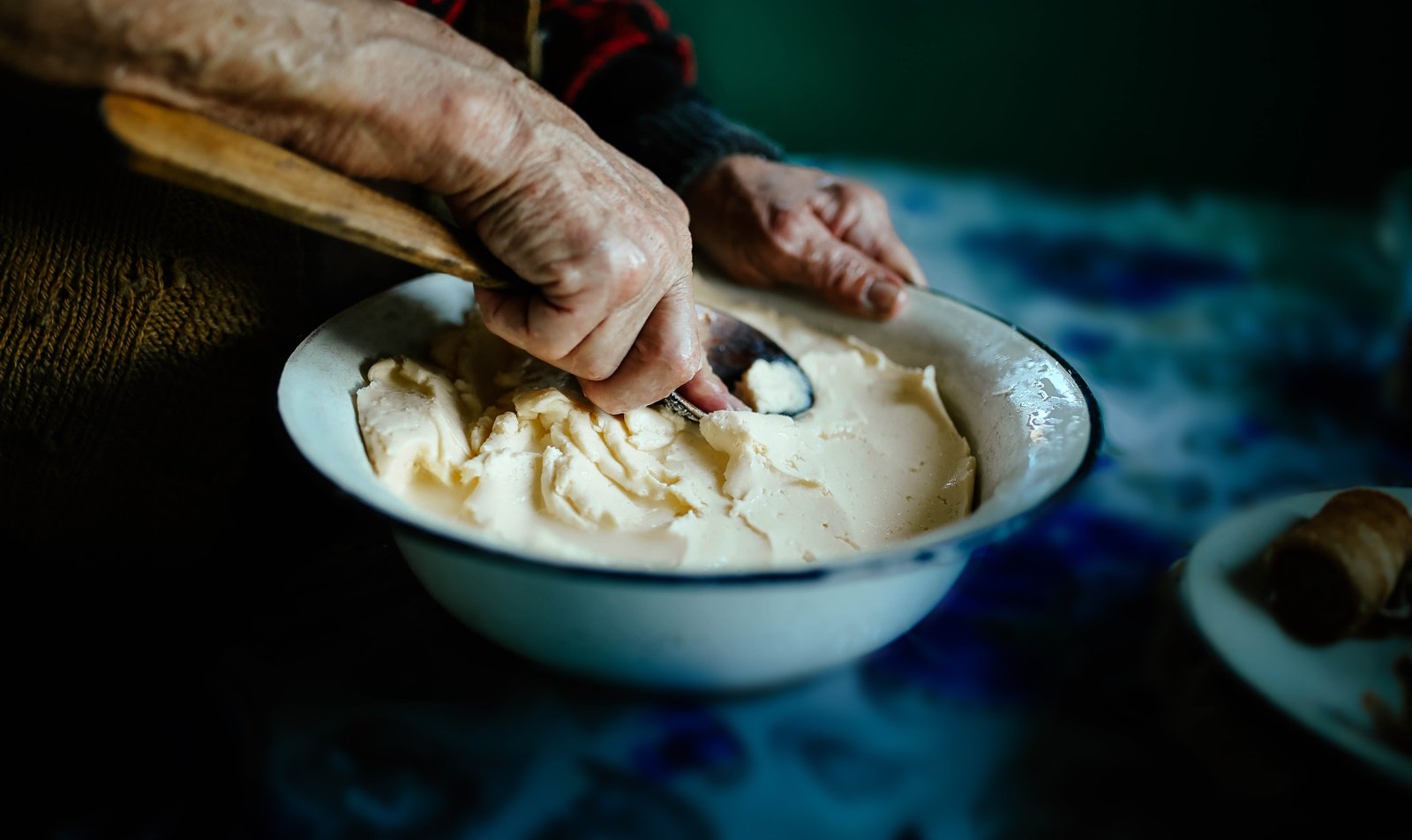 What And Where To Eat In Maramures
In Maramures, meals are served without deviating from old customs. Guests are expected to consume everything that is put on the table, so as not to offend the host. Visitors are seated at the table in a place of honor, alongside elders or prominent figures (such as the priest or teacher). The head of the household, usually the man, drinks first and then the rest of the guests. Before cutting the bread, the sign of the cross is made.
All these Maramures customs have been inherited from ancestors and are still passed down from generation to generation.
To feel like a local, start your day with "colese" with cheese, bacon, and scrambled eggs (mancarusca). A glass of plum horinca will open your appetite and make you start your day with joy. For lunch, a zama (soup or broth) is served obligatorily.
Balmos, one of the most appreciated Maramures culinary dishes, is not considered an everyday meal. Even though this local delicacy can only be found in less touristy villages, its mention in A Georgeoni's book (1936) ensures its survival over time.
Horinca, a double-distilled brandy, exceeding usually 50 degrees, is a staple on the tables of Maramures. During Christmas, Easter or Epiphany, horinca is sweetened with honey.
Agriculture in Maramures focuses primarily on corn crops. Therefore, mamaliga (polenta made from cornmeal) is another essential food on the tables of Maramures. Wheat bread is only eaten on major holidays. Wheat flour is also used to make 'prescurele' or 'colacii', served at various events.
Being a pastoral region, Maramures gastronomy is also based on fresh milk and its derivatives. Cheese is homemade in households from the milk taken from the sheepfold. It must last throughout the winter, being hermetically sealed in a wooden barrel, covered with a layer of clay on top and wooden bottom. Also, sour milk (lapte batut) is consumed here.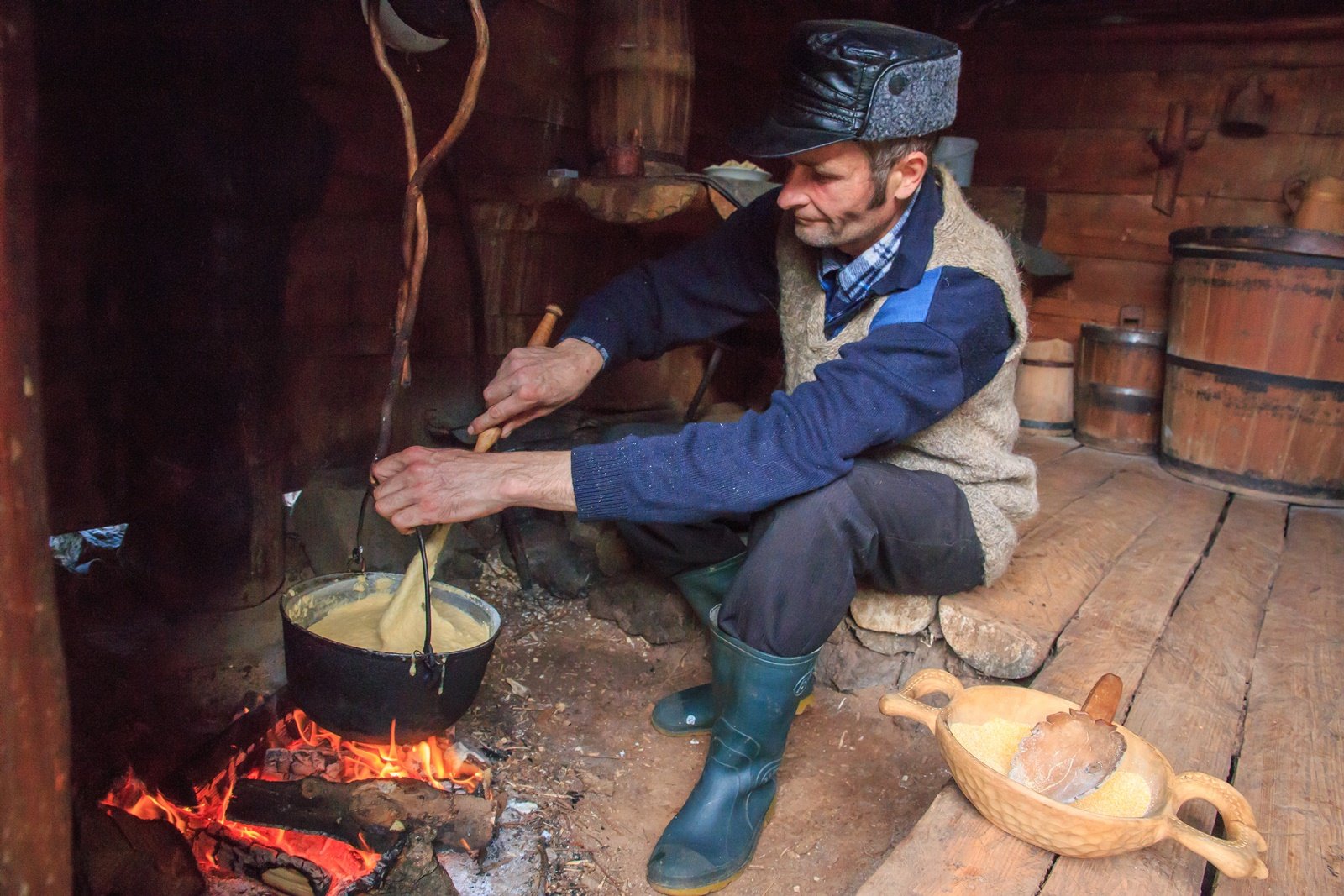 For memorable culinary experiences, we recommend staying in restored traditional houses, manors or castles. Usually, local gastronomic points have been developed around these accommodations.
Additionally, there are traditional guesthouses, modern cabins, or other unique lodgings that can provide meals on their premises or with local hosts in the village.
If you have the opportunity, do not miss a meal at a mountain sheepfold. The stunning landscapes, fresh air, and complete peace will sharpen your senses. Moreover, you will have the chance to experience an ancestral way of life, eat simply but tastefully and listen to amazing stories.