Are you planning to explore Transylvania this year?
In addition to the numerous places to visit, local cuisine is one of the main tourist attractions.
Centuries-old culinary recipes, with multicultural influences and local ingredients, await you to discover them.
However, your mission will not be easy without a few recommendations.
In the following, we will show you what and where to eat in Transylvania for a memorable culinary experience.
10 Culinary Dishes To Try In Transylvania
First of all, we must tell you that in Transylvania annual brunches are organized in the locals' households or in the fortified church yards. This is an excellent opportunity to explore Transylvanian gastronomy.
Moreover, the mountains abound with tourist sheepfolds that can cook authentic culinary recipes with local ingredients for tourists.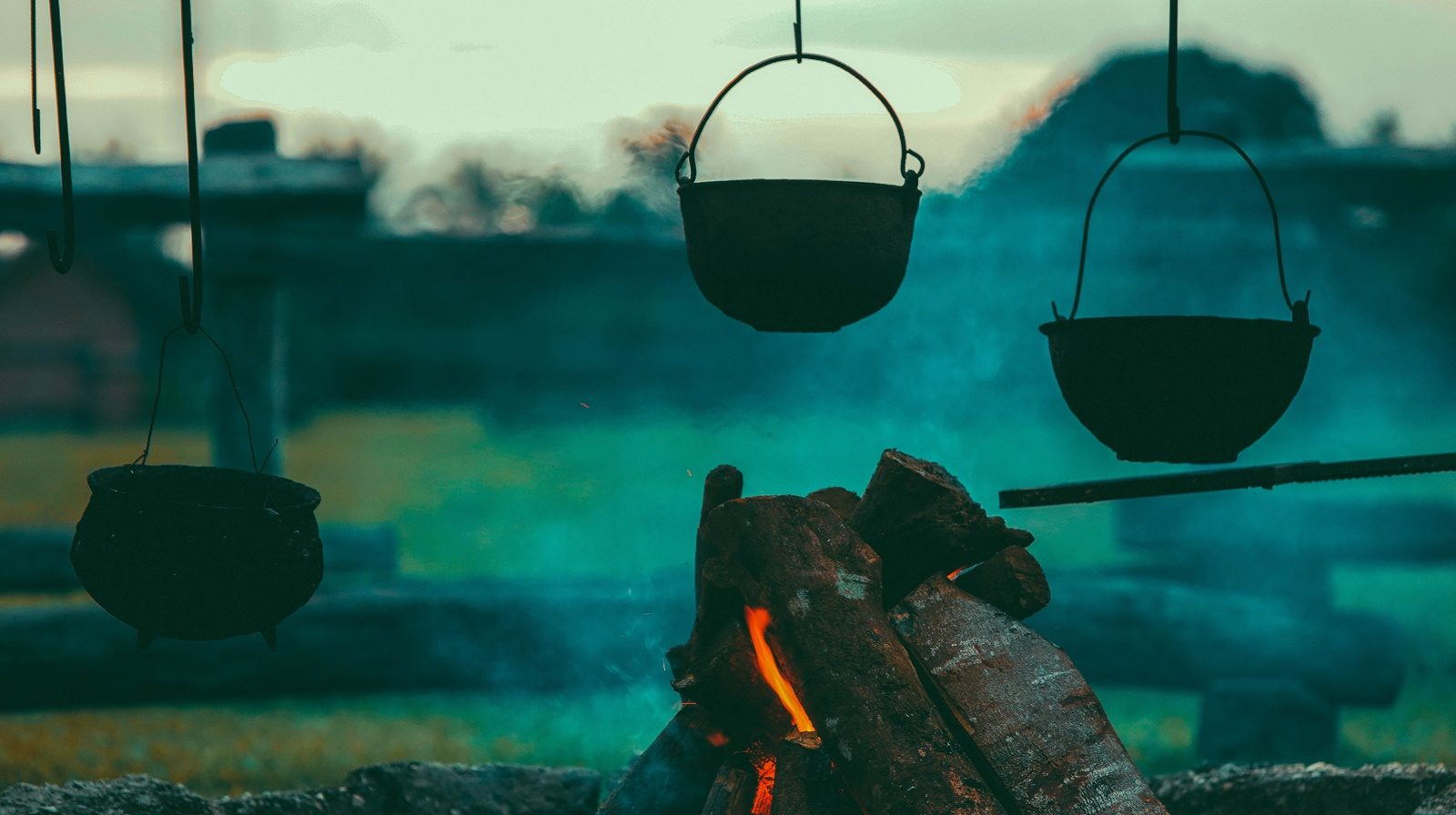 In addition, there are plenty of local gastronomic points, guesthouses, or restaurants with traditional cuisine, where you can have a real feast.
So, here's what and where to eat in Transylvania.
1. Pie On Lespede, With Cheese And Greens
Pies are culinary dishes that are thousands of years old. Although some attribute their origin to ancient Greece, the first mention of this type of food appeared in 9500 BC in Egypt. Each nation brought its own influence in the preparation method, and Transylvania proposes one of the most delicious recipes.
The secret to the taste lies in the preparation on a lespede. The lespede is a very heavy pan, made of cast iron or thick iron, with low edges. The robustness of this utensil made it to be passed down from generation to generation, and the layers of burned fat give a specific aroma to the pies.
The pie on lespede, originating from Transylvania, uses flour, water, oil, and salt for the dough, and various types of cheese, salt, pepper, dill, and green onion for the filling.
2. Lamb Stew with Onion, Garlic, and Spices (Shepherd's Recipe)
Lamb stew in a cauldron is a very common culinary recipe in Marginimea Sibiului, where communities have been engaged in sheep farming for hundreds of years. Some traditions are still sacredly respected today, one of which is not leaving for transhumance before cooking lamb or sheep stew in a cauldron.
The ancient recipes make use of the whole animal. The meat is added with the bones, which bring more flavor. Also, cooking in the open air, over a wood fire, gives the stew a specific aroma.
3. Sibiu Pork Tenderloin
Sibiu pork tenderloin is another must-try culinary recipe if you find yourself in Transylvania. It is usually prepared with ham, mushrooms, cheese, potatoes, and other spices.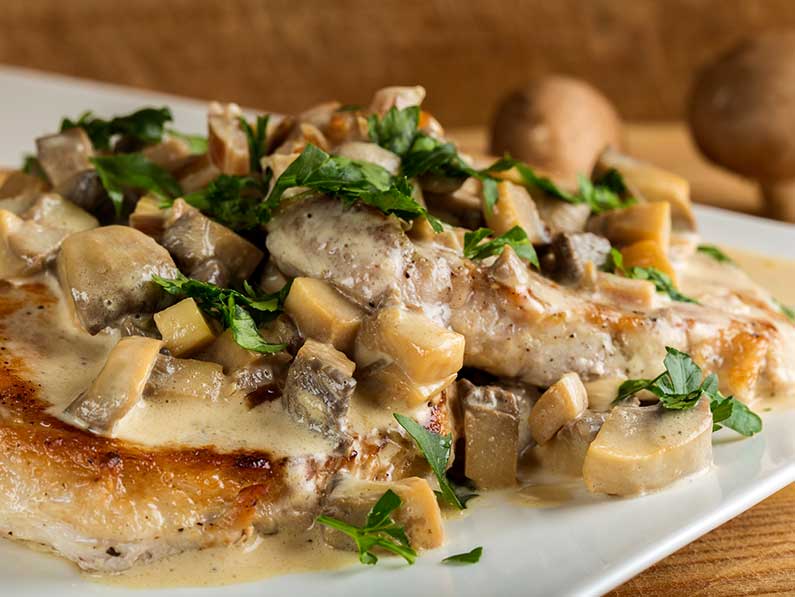 4. Bean Soup With Pork Leg, Served In A Bread Bowl With Red Onion
Bean soup is a Romanian traditional recipe, very popular throughout the country. In Brasov, the traditional bean soup with pork leg is served in an ingenious way. To be more specific, in a bread bowl, with red onion and salt as a garnish. The crispy crust does not absorb the soup, to the amazement of tourists trying this traditional dish for the first time.
This recipe dates back to the medieval period when bread served as a plate. People made bread with a very thick crust, which they left to dry. The core was removed and eaten, and the food was placed inside the dried crust. After the feast, the very hard crust leftovers were given to the poor or animals.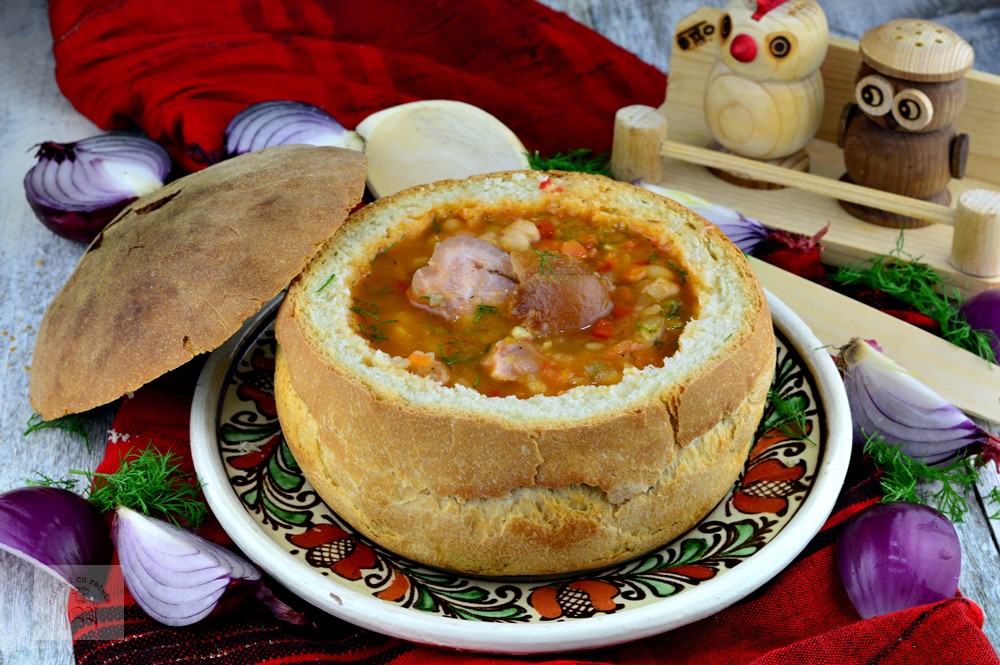 5. Chicken Paprikash With Sauce And Dumplings
Chicken paprikash is a traditional Hungarian recipe. This recipe was first mentioned in the 19th century, specifically in 1830, in the book written by Czifray Istvan - "The Hungarian National Cookbook".
From Hungary, the recipe quickly spread to Banat and Transylvania, as well as to Serbia, Slovakia, and the Czech Republic. This dish is recommended to be cooked in a cauldron, over a wood fire, in open air for extra flavor.
Paprikash is a chicken stew, with onions, peppers, and tomatoes, flavored with paprika, salt, parsley, and allspice. In the end, sour cream is added and served alongside another Hungarian specific garnish, dumplings.
6. Gulyas
Gulyas or goulash, as it has been adopted in Romanian, is another culinary delicacy of Hungarian origin. Perhaps the most famous Hungarian dish, it is known and loved all over the world.
In the Transylvania region, the most popular is the Szeged goulash. It is made from beef, veal, or lamb and is usually prepared in a cauldron over a wood fire. Among the main ingredients, there are cubed potatoes and dumplings.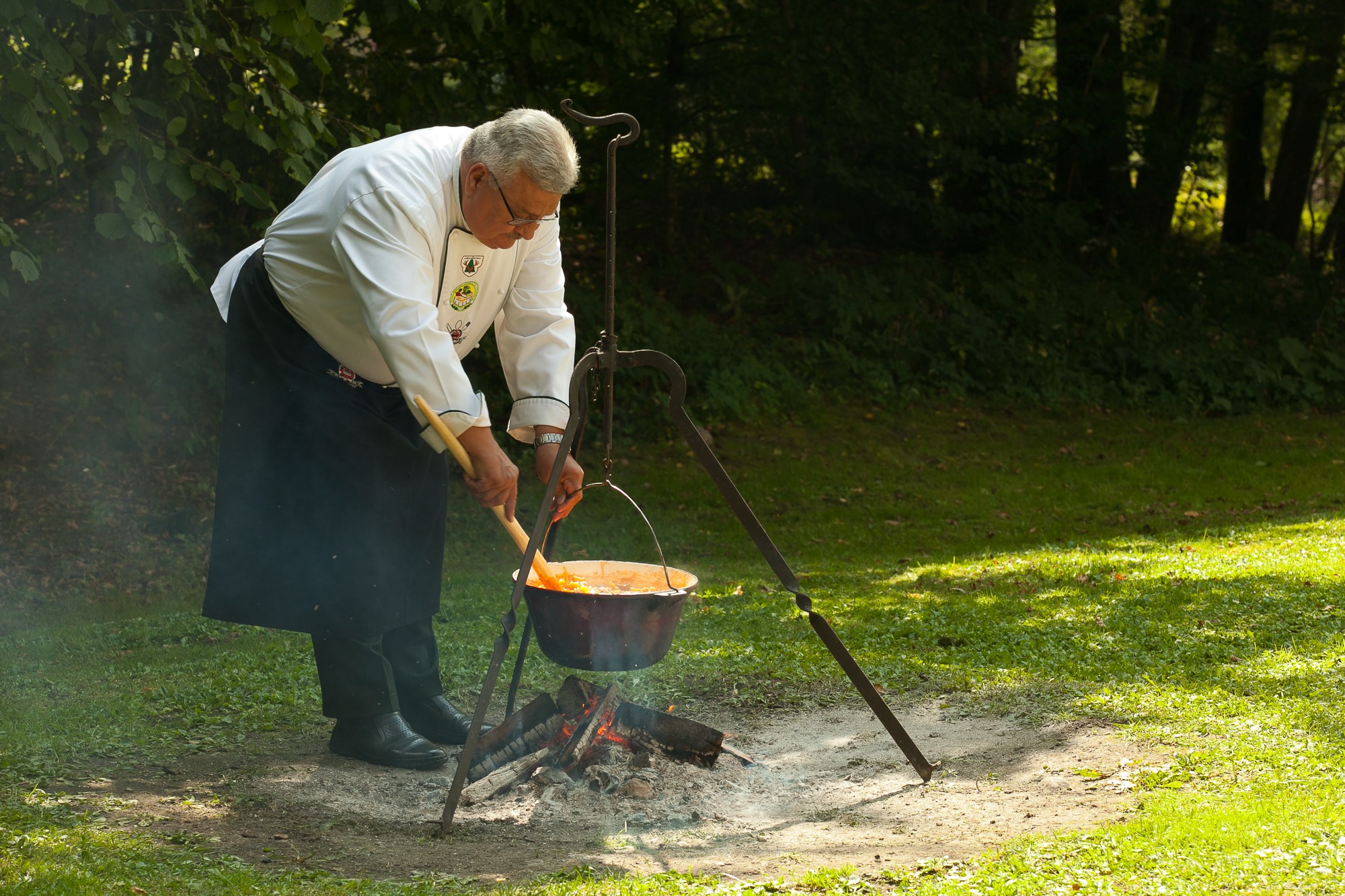 We recommend tasting this dish at Conacul Secuiesc in Coltesti or at Kormos Residence, Nicolae Ceausescu's former hunting lodge.
7. Pig's Alms
Pig's alms is a Romanian culinary recipe that is traditionally prepared for Ignat Day, before Christmas. Many myths and old customs are associated with this holiday, but it is certain that on December 20th of each year, Romanians enjoy one of the most delicious traditional dishes.
Because pork meat is plentiful nowadays, pig's alms can be found on the menu of any respectable traditional restaurant.
Pig's alms is a stew made with pork meat, homemade sausages, and lard. It is usually served with polenta and pickles.
8. Shepherd's Bulz
Shepherd's bulz or "the polenta bear" as it is popularly known, has its origin on the top of the mountain, at the sheepfolds. It is a delicious recipe and relatively easy to prepare, with ingredients that are available even at the top of the mountain.
Bulz is a ball of well-cooked polenta (cornmeal mush), inside which a cube of bellows cheese is inserted. It is then placed on the grill until it is covered with a crunchy crust. It is usually served with fried eggs, smoked short ribs, and pickles.
9. Cottage Cheese Papanasi With Sour Cream And Sour Jam
Now that we're at the end of our recommendations on what and where to eat in Transylvania, we'll leave you with two very popular desserts in these parts.
Papanasi are a traditional dessert consisting of delicious doughnuts with cottage cheese, sour cream, and sour jam.
Similar desserts can be found in Austria or Hungary, making the origin of this culinary dish to be contested.
10. Kurtos Kalacs: Spiral-Shaped Sweet Bread Made Of Dough And Sugar, Cooked On The Rotisserie
Kurtos or Hungarian glazed sweet bread has its origins somewhere in the 15th century. However, the first documented recipe was found in the cookbook of the noble family Mikes from Zabala, Transylvania, in 1784. Interestingly, the Slovaks were the first to patent this recipe under the name Skalicky trdelnik in the interwar period.
A very popular recipe in the Land of the Szeklers, which today has conquered the international public with its unmistakable flavor.
Kurtos is a spiral-shaped sweet bread with sugar glaze, browned on the rotisserie over hot coals. Its taste is further enriched with lemon zest, vanilla, or ground nuts.
Now that we have shown you what and where to eat in Transylvania, you probably need other tips for a memorable vacation.
Travlocals helps you quickly and commission-free book the most spectacular accommodations and experiences in Romania.